Modèle pour la planification des stratégies de déconstruction des systèmes en fin de vie
In a sustainable development context, stakes of the last stage of system life cycle, the end-of-life stage, have increased these last years. End-of-life systems have to be demanufactured in order to be valued answer so to some environmental requirements. The aim of disassembly strategies is to bring solutions to the whole decision problem risen during the end-of-life stage of systems. In particular, decision maker have to select valuable components according to technical, economical and environmental criteria and, then, design and optimise disassembly support system that will generate these products. The solution to this problem aim at determining what we call a disassembly trajectory. The work presented in this paper is about planning of these trajectories on different horizons that integrate several arrivals of end-of-life systems. The proposed approach allow to taking into account uncertainties defined on a temporal dimension.
Dans un contexte de développement durable, les enjeux de la dernière phase du cycle de vie d'un système, la phase de retrait de service, se sont accrus ces dernières années. Les systèmes en fin de vie doivent être déconstruits afin d'être revalorisés pour répondre aux différentes exigences environnementales. Il s'agit notamment de sélectionner les constituants valorisables suivant des critères techniques, économiques et environnementaux puis de définir et optimiser le système de déconstruction permettant l'obtention de ces produits. La solution obtenue définit ce que nous avons appelé une trajectoire de déconstruction. Les travaux présentés dans ce papier portent sur la planification de ces trajectoires sur des horizons prenant en compte plusieurs systèmes à déconstruire. L'approche proposée permet de caractériser des incertitudes relatives à la déconstruction définies par rapport à une dimension temporelle (date, durée, etc.) dans la planification.
Fichier principal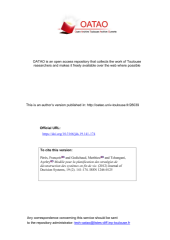 Godichaud_28039.pdf (798.99 Ko)
Télécharger le fichier
Origin : Files produced by the author(s)